"Cure Your Tendon Pain"
Especially if you've been to doctors and physical therapists who have been unable to help
Dear Friend,
My name is Alex Nordach and although I have been helping people with tendon pain for over 20 years, we don't know each other, and I don't know your exact situation.
Maybe you want to get back to training and getting better at your sport. Maybe you want to get back to work. But you're confused, frustrated, tired of "remedies" that don't work, and you don't know where to turn. You want to get back to your regular life more than anything else, and you should!
That's where I come in. I have over twenty years of direct experience — both in the gym myself and as a trainer to others — helping workers and athletes meet their personal goals. It's more than a job to me — it's an obsession!
In those two decades, I've discovered exactly what works and what doesn't work when it comes to relieving tendon pain. You won't find any generic "just rest the area" advice here — what I do is fast, effective and will get you back on track in record time.
Here's a typical case that will show you what's possible:
About five years ago I had a client who had developed a case of tendonitis so severe it hurt for him to shake hands. This guy was an international businessman in his 40s, so he did a lot of traveling and hand-shaking. His condition was so bad that he could barely pull his suitcase through the airport. His story was typical: he had tried "everything" — rest, cortisone shots, massage therapy, traditional rehab work…in short, the whole range of what is traditionally available to tendonitis sufferers.
None of it worked.
When he finally called me, he was at the end of his rope. To say that he was frustrated doesn't even begin to cover it. His forearm tendonitis was affecting everything in his life. It hurt for him even to lift his five-year-old child up in the air.
Fortunately, I knew exactly how to help him. I explained that his "tendonitis" was actually tendonosis and gave him some specialized exercises to perform. In two weeks he came in for a follow-up consultation.
"I can't believe it!" he said. "The pain is 80% gone!"
This was a man who had been suffering for months, and who had the resources to seek out the best that doctors could offer. Nothing had worked for him, but in just two weeks after using the techniques I recommended, he was practically cured. And four weeks after that, the remaining 20% was gone as well. A complete recovery!
Those Same Simple Strategies Can Work For You Too…
Those same techniques, and the physiology behind them, can and will work for you too – guaranteed.
I know, because they've worked for hundreds of people just like you.
Your situation is frustrating, but it is NOT unique.
More importantly — your situation is NOT hopeless.
The strategies I use have been developed over years of successfully working with people in all kinds of situations and circumstances. I will show you exactly what to do for your condition.
You'll discover exactly what to do in terms of exercise.
You'll discover exactly what to do if your situation requires nutritional supplements. (No, I don't sell the supplements.)
Perhaps most important, I'll show you exactly how to identify the cause of your tendon pain and modify your technique so that you don't develop the condition again or make it worse.
With over twenty years of experience, I've successfully worked with every conceivable situation. Now, you can have all of my experience working to save your body.
Here's How I Can Help you Get Back on Track Starting Right Now…
I've just finished a new program called Target Tendonitis that gives you in step-by-step detail all the most effective tendon pain-stopping strategies I've discovered over my 20-plus years of experience. It contains strategies that are more effective for curing tendon pain than you've ever seen.
This knowledge has decades years to develop, and most medical and sports professionals simply do not have it.
I commissioned an Internet survey a couple of months ago, as I was debating whether to go ahead with the project of writing the book. After all, if the knowledge was already out there it didn't make much sense to put in the time and effort. But I couldn't find anything other than doctor sites with the same tired and ineffective advice.
"Stop doing what you're doing, ice the area, give it time to heal." As a worker or athlete, professional or otherwise, the last thing you want to do is take time off. Right? Well, now you don't have to.
Target Tendonitis is about one thing: exactly what to do to relieve the pain and get you back to work, back into the gym or back onto the tennis court in record time. In fact, my cornerstone protocol will take you only a couple of minutes two or three times a day. That's a lot better than showing up at a meeting with an ice pack on your shoulder!
My ebook shows you exactly what to do, the exact exercise protocols and supplements — helping you every step of the way, guiding and coaching you to get yourself healed and back on track as quickly as possible.
Here Are Some Of The Strategies You'll Discover On How To Stop Your Tendonitis DEAD COLD In Its Tracks.
The "common sense" strategies doctors and physical therapists recommend — ones you're probably using right now – and why they take months to work, if they work at all.
The single best thing you can do to relieve yourself of pain and start the healing process immediately.
Training mistakes that will result in a recurrence of tendon pain — and how to avoid them. (You'll probably kick yourself when you realize that the way your training is set up is contributing to your pain.)
Which nutritional supplements can have a beneficial effect, not just on your tendonitis/tendonosis, but all RSIs.
The truth about inflammation and tendonitis.
Why cortisone (and other cortico-steroid) shots are bad for you, and why you shouldn't rely on them.
The truth about "proprietary blend" cocktails of herbal remedies, and why they are often not as effective as they should be.
As a bonus if you order now, a series of eight videos, totaling more than an hour and a half, explaining and demonstrating exercises for virtually every part of your body that can be stricken with tendon pain. Everything from the Achilles tendon on up, through the knees, hips, arms, shoulders, chest, back and hands…it's all there.
How to develop your own "anti-tendonitis" exercises that will speed you on the path to recovery now and help prevent recurrences in the future. Never feel helpless again!
I want to be clear with you — I am not selling some sort of magic pill that will instantly cure you forever. The methods I am going to show you will require some effort on your part. But make no mistake: putting what I teach you into practice will relieve your tendonitis faster than any other method out there.
I would also like to be clear about one other point: Target Tendonitis is a program of treatment. It is not being sold for "informational purposes". If you don't plan to actually put my techniques into practice, please don't order this ebook. Refunds will not be given to those who have not given my program a fair shot.
In case you're wondering about my qualifications, let me tell you a little bit about myself. I have worked as a Personal Trainer with dozens of clients in many different sports, and have hands-on experience working with physique competitors and both professional and recreational athletes of all kinds.
With over two decades of experience, I am proud to say I've helped hundreds of people — even when they thought they would never be able to fully participate in their sport or professional activity again.
Now, it's up to you to take the next step
You have a decision to make: are you going to spend more time and money pursuing outdated, ineffective "remedies" that either take months to work or don't work at all? Or are you going to choose the fastest, most effective and cutting-edge techniques known to get you back on track?
It's completely up to you.
Remember, everything you do from this point is either helpful or harmful, and the most commonly recommended treatments for tendonitis simply aren't effective. Simply put, there are better choices out there.
Target Tendonitis will give you the specific, step-by-step techniques and strategies you need to enable you to get back to what you want to be doing most — living and training without pain.
You can download this program — this solution — right now for only $29.97 — almost certainly less than the cost of one visit to the doctor. And it's fully guaranteed.
Here's How You Can Get Started Repairing Your Body In The Next 10 Minutes…
When you click on the button below, you'll be taken to a secure order page for your credit card information. We use Paypal, so your order information is kept completely confidential — only Paypal and your credit card company access the information.
Your order is processed immediately, and you'll get a receipt for your purchase with a transaction number and a link to where you can download your ebook right away. Inside the ebook, in the FAQ section, are links to a series of videos that will show you exactly what exercises to do for the part of your body that hurts.
The whole process takes just a few minutes and you'll be getting started on your new program — started on your relief — less than ten minutes from right now.
When you get the ebook, turn first to the section titled "Quick Start Guide" and read it, along with the example exercises. Then check out the bonus videos. You will instantly understand what you need to do to start healing your body immediately. Then go back and read the ebook from cover to cover. Try some of the other strategies if you feel you need them. (You probably won't, but they're there just in case.) Learn what tendonitis and tendonosis really are, and how you can avoid these costly conditions in the future. Never again lose precious training or work time.
100% Money Back Guarantee…

Our 60 Day 100% Money Back Guarantee
Read the ebook cover to cover, watch the bonus videos, and try the strategies risk-free. If the program isn't helpful to you — and by that I mean, if you don't think that it's the best and most effective treatment for tendon pain you've ever experienced — I'll cheerfully refund your money, and you can keep the ebook and videos with my compliments.
Just click on the button below to order your ebook safely with our secure order form. You will have two full months to try out the protocols and nutritional strategies 100% risk-free. And remember: if you don't find the program in the ebook and bonus videos to be worthwhile, if you don't think that this is the most effective, cutting-edge treatment you have ever tried, if my strategies don't get you back to work, back into the gym or back out running in record time, I will refund every cent of your money, no questions asked.
(IMPORTANT: If you have a tendon issue in your foot (for example, plantar fasciitis or posterior tibial tendonitis), please order this ebook and video package instead, as Target Tendonitis does not cover anything below the ankle.)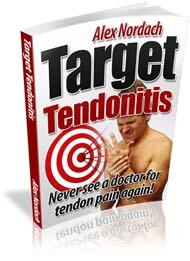 Target Tendonitis currently comes in two foreign language editions. If you would prefer to read the ebook in Japanese or Portuguese, please click on one of the links below. (Note: The videos are in English for all editions. Also, I do not offer support in any language other than English.)
Buy the Japanese edition here.

Buy the Portuguese edition

here

.

I can help you. But you've got to take the first step.
I look forward to hearing from you today.
Sincerely,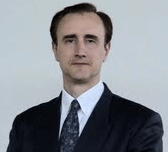 PS – Every strategy and idea in Target Tendonitis is a proven winner — strategies I've used successfully in real world situations. They're the same strategies I use every day in my professional life to help hundreds of people get back on track every year.
PPS – Remember, at the moment I'm giving away a bonus of eight videos showing you the exact exercises for each part of your body. I created these videos so that there would be NO QUESTION in anyone's mind about the right way to perform anti-tendonitis exercises. And you can get the entire series COMPLETELY FOR FREE if you order now.